King Guide to Parenteral Admixtures Online Edition
Complete full text monographs report compatibility and stability for over 600 intravenous drugs. Each monograph reports the routes, dosages, temperatures, and containers used to determine compatibility and stability from fully referenced peer-reviewed primary sources.
Available as a single user license or a site license.
---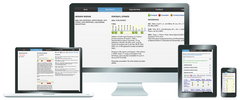 From $440.00